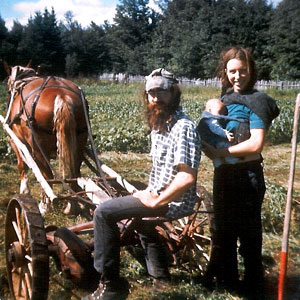 The road plunged down, then up, then down as far as the eye could see, through a vast sea of trees. We looked at each other asking, "Who would ever live there?" It would be us.

A long time ago, when we were young and in love, we moved up here to a remote land with no buildings, electricity, telephone, or near neghbors. We didn't speak French or have farming skills.

We grew our food with the help of good old Danny. Our staple protein source was soup peas, which thrive in this cold climate.